2022 Mitsubishi Mirage Model Review in Oak Ridge, TN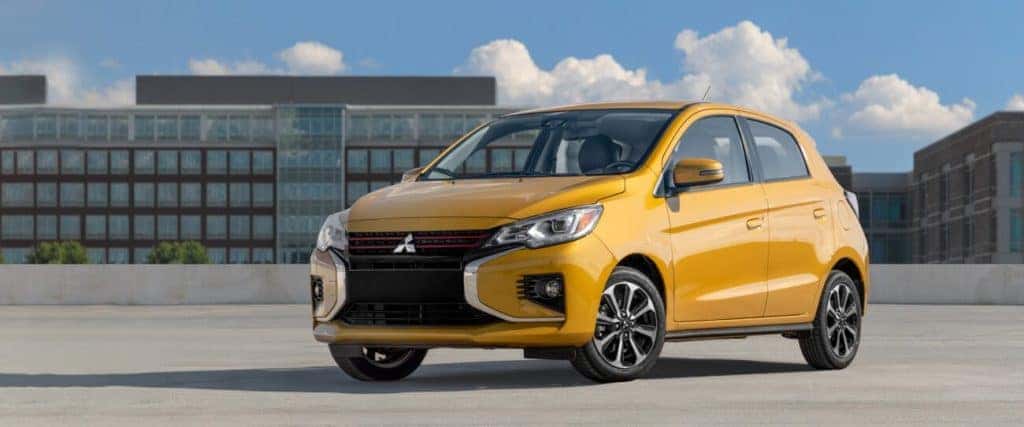 A delightfully designed compact hatchback, the Mitsubishi Mirage offers tight turns, versatile cargo space, and enough room for 5 passengers. Perfectly built for bustling traffic and small spaces, the Mirage delivers incredible fuel economy too, so you'll save money at the pump and get to where you're headed faster. Learn more about the new 2022 Mirage below and take it for a test drive at Ole Ben Franklin Mitsubishi in Oak Ridge, Tennessee today.
New Mirage Exterior & Safety Features at Ole Ben Franklin Mitsubishi
Zippy, safe, and reliable, the Mirage stands out competitively in the compact space. Envision yourself on the inside track of a raceway, because the 15.1-foot turning radius makes for effortless turns and parking. The Mirage also offers fantastic assistance features like Hill Start Assist, so you don't roll back when stopping and starting on an incline, and Active Stability Control, to help keep you in a straight line on slippery roads. Plus, you'll do it all with the Mirage's impressive fuel economy of 39 mpg.
The Mirage keeps you protected on the road with its purposeful safety features. Mitsubishi designed the body of the Mirage to direct force to designated crumple zones in case of a collision and reinforces key areas to protect passengers, especially for side impact. It also comes standard with seven airbags throughout the interior, a rear-view camera system, and LED headlights for better visibility. You can add the available rain-sensing wipers that adjust to the amount of rain and traveling speed so you can see where you're going, no matter the weather.
Interior Features & Tech in the 2022 Mitsubishi Mirage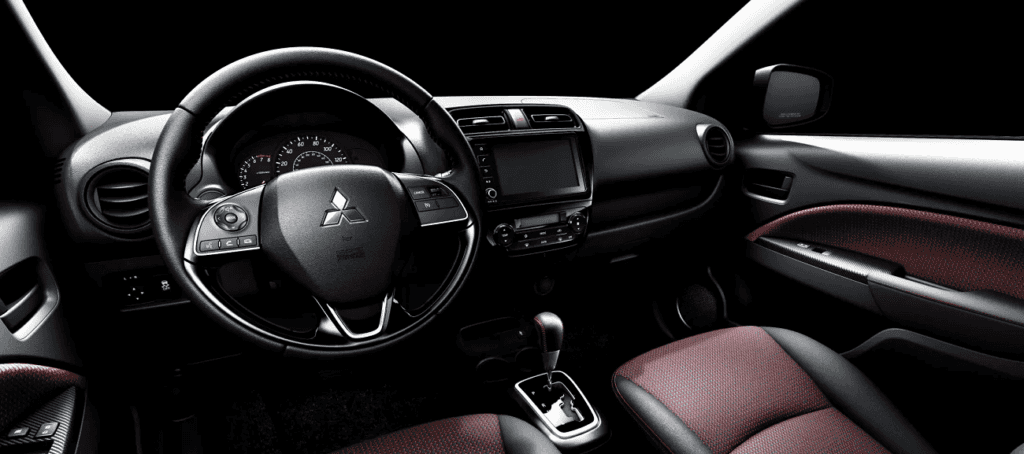 Even with all five of the passenger seats filled, you'll still be able to pack in groceries, DIY project materials, work gear, or luggage in the surprising 17.1 cubic feet of cargo space, or with a less full car, fold down the rear seats for 42 cubic feet of space.
The details in the Mirage weren't an afterthought, with a leather steering wheel, automatic climate control, and a fast-key entrance system complete with a push-start engine.
Keeping up with modern technological advances, the Mirage dazzles with leading-edge techs like Android Auto and Apple CarPlay connectivity for hands-free smartphone compatibility with GPS, texts, calls, and music. Plus, with the standard Bluetooth wireless, anyone you ride with can be the car's DJ.
Shop the New Mitsubishi Mirage with Ole Ben Franklin Mitsubishi in Oak Ridge, TN
We know it sounds too good to be true. That's why it's time to take it for a test drive and experience this innovative new vehicle for yourself. At Old Ben Franklin Mitsubishi, our slogan is "You've got a friend down at Old Ben", because we truly are here to help our customers and believe in doing the right thing even when no one is watching. All our vehicles are inspected, and we help secure low rates for our customers, so they feel confident in their decision.
Test out the new Mitsubishi Mirage today by calling us at 865-217-7584 or stopping by Ole Ben Franklin Mitsubishi!